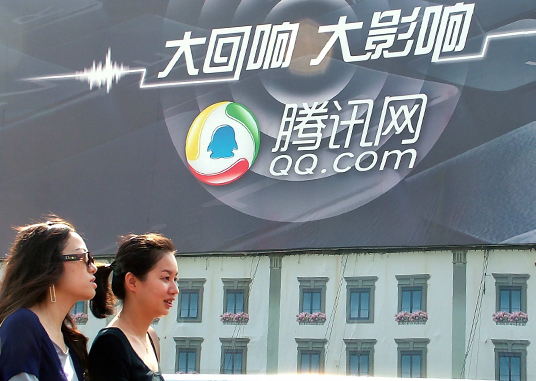 Annual Review
In early 2001, China Mobile announced that, starting from February 21, the fee for information-on-demand services would include munication fee and information fee, among which the munication fee was 0.1 yuan per message, and some Internet panies began to jump on the bandwagon of short message services (SMS). Some firms took the initiative to create opportunities and launched paid mailbox and homepage services, etc. Tencent also seized the opportunity to grow despite adverse conditions by taking advantage of its huge user base and diversified billing models.
The year 2001 was also a turning point for China's online gaming industry. In 2000, online gaming sprouted up from the launch of the King of Kings. After Shanda introduced a massively multiplayer online role-playing game – the Legend of Mir II, which was licensed from South Korea in November 2001, the online gaming industry yielded usually brilliant results and became one of China's most profitable industries.
The year 2001 was also an important turning point for the restructuring and opening up of China's tel industry. China Tel was split up into roughly north areas and south areas in this year. In this year, China Un developed CDMA network which was the second nationwide mobile munication network in China, following the GSM network. The restructuring of China Tietong Tel into a mercial tel operator was also pleted in the same year. After China's accession to the WTO in 2001, Alcatel signed an agreement with China to merge its main business in China with Shanghai Bell to form Alcatel Shanghai Bell, which was the first Sino-foreign joint stock tel munications pany in China. The joint venture showed that China's tel munications market was gradually opening up to foreign capital.
In the same year, two software panies, Kingdee and UFSoft, also brought good news to the Internet industry in China. The listing of the two software panies also boosted stocks of domestic software panies.
By the end of 2000, the goal of "making vigorous promotion of nationwide economic and social informationization into a strategic measure covering the entire picture of modernization construction" set forth in the Proposal of the CPC Central Committee for the Formulation of the Tenth Five-Year Plan for National Economic and Social Development was fully implemented in 2001. Policies promoting informationization of governments, enterprises and education facilities were also introduced. In September 2001, the Guidelines of the Tenth Five-Year Plan for the Information Industry was officially released. It was the first industrial plan after informationization was made into a major strategic measure by the central government, laying a solid foundation for the orderly development of the entire Internet industry.
Key Events
On January 1, Beijing Huayi launched Stone Age, ushered in the golden age of online gaming in China; in March, Shanda officially announced its entry in the online gaming market; in May, ourgame became the world's largest online gaming site; in July, Shanda paid USD 300,000 to introduce the massive Korean on-line game Legend of Mir 2; in July, Chinesegamer.cn released "Heroes of Jin Yong Online", successfully retaking the market from online games developed by South Korea, and became the most successful original online game in 2001; in November, NetEase launched Westward Journey Online, signaling the start of Internet portals' entry into the online game industry, and making online games a new profit growth point for Internet portals. Due to this series of actions, the revenues of China's online game industry in 2001 reached nearly RMB 500 million, on a par with stand-alone games. This year is also known as the "Year of Online Games" in the industry. Gaming appeared to have b e a whole new industry overnight and was given a very avant-garde name - the Ninth Art.

Online gaming is a strategic entertainment industry and the integration of information technology leads to the flourishing of the global digital entertainment industry where online gaming is one of the leading forces. According to data from IDC, global online gaming revenues climbed to over USD 6 billion in 2002 and continued to grow at rates in excess of 50% over a period of five years after 2002. In 2008, amazed by China's thriving online gaming market, media in South Korean exclaimed that China's online gaming had successfully caught up with South Korea.

From 2000 to early 2001, China's domestic online gaming firms were still very weak in development of original games. Most of China's domestic operators relied on licensing games developed by foreign panies. Some panies acquired their first pot of gold by taking advantage of the shear size of the market and user base and the lack of petition in the market. It was at the end of 2001 that domestic online game producers and studios began to challenge the dominant role of online games developed by foreign countries. China's online gaming firms also slowly transformed their role from licensed operators to developers of original games. In 2001, they began to earnestly pete in the online gaming market which had been limbering up from the year of 2000 by launching new games at the speed of one game per month.

After rolling out the Monternet Plan in 2000, China Mobile made adjustments to its paid SMS services in early 2001. On January 17, Sohu formally announced its launch of prehensive SMS services. Sina, NetEase, Tencent and other Internet panies also joined hands with tel operators to launch SMS services. SMS provides a source of revenue for Internet panies and gradually helps China's three major web portals stop continuous losses. By 2002, all three major portals had reported a profit in a quarterly reporting period.

The explosive growth of the SMS market also has its inevitable external opportunities. For one thing, the rapid development of the online content industry and mobile phone technology led to diversified forms and content of SMS and provided strong support for the development of SMS. For another thing, due to the continuous growth of mobile phone users, SMS became very popular and demands for SMS also became more diversified. In a user demand oriented market environment, SMS created a new space of value for mobile Internet information.


On the morning of December 24, Tencent publicly disclosed details on changes in its capital and business for the first time, and further explained the acquisition of 46.5% shares in QQ (Tencent) by the international media pany MIH: "MIH acquired stakes held by PCCW in Tencent in whole and part of the stakes held by IDG in Tencent and further increased its investment in Tencent in June 2001. Now, MIH held 46.5% stakes of Tencent."

It was reported that, in this acquisition, the founders of Tencent sold 13.5% shares in QQ, the U.S. investment group IDG sold 13% QQ shares, and Hong Kong investor Richard Lee sold all his 20% QQ shares. As a result, the shares held the international media pany MIH (Millard International Holdings Group) in QQ reached 46.5%, on a par with Shenzhen Tencent. MIH was incorporated in South Africa and listed on the NASDAQ and the Dutch exchange market known as the Amsterdam Stock Exchange.

In addition to publicly disclosing details on changes in its capital and business for the first time, Tencent also clearly explained the relationship between the two parties: "Currently, the foreign investor MIH does not control Tencent, nor are investment panies involved in business operation of Tencent. The management and development direction of Tencent is not affected by capital investment or withdrawal by investors. On the other hand, MIH as a strategic investor and panies invested by it have maintained a close business relationship with Tencent."

On June 22, the first convention of China Media Forum was held in Qingdao, with the theme of "Internet media and the information industry". The convention brought together leaders of the Publicity Department of the CPC Central Committee, the State Council Information Office, Ministry of Information Industry, All-China Journalists Association and other departments and representatives of about 150 Internet media. It was the first high-level, large-scale professional Internet media convention held in China. Cai Mingzhao, deputy director of the State Council Information Office, delivered a speech at the opening ceremony of the State Council and the name of the speech was "Strive to Speed up the Construction of a Socialist Internet Publicity System with Chinese Characteristics".

The first convention of China Media Forum was proposed by All-China Journalists Association and organized by a number of Chinese news media sites in accordance with the discussion results of the 2000 National Internet Media Seminar. The mission of the forum is to promote the construction and development of China's Internet media.

Over the 13 years since 2001, China's Internet industry and Internet media has grown enormously. China Internet Media Forum has b e the highest level professional forum as well as the largest professional forum in China's Internet media industry. It has b e a platform for promoting munication and collaboration between academia, industry and government and healthy development of China's Internet media industry. The themes and content of all previous conventions of China Internet Media Forum also reflect the development history of China's Internet media.

On December 11 when China joined WTO, the State Council officially approved the restructuring program of the tel industry. According to the program, China Tel was split up into roughly north sector and south sector. The operations of China Tel in North China were merged with China Ne and Ji Tong to form a new pany called "China Network Communications Group Corporation"; the southern operations continues to operate under the China Tel name and retained goodwill and other intangible assets of China Tel . After the restructuring, a "5+1" structure consisting of China Ne , China Tel , China Mobile, China Un , China Tietong and China Satellite Communications Group which was incorporated in Beijing on December 19 was formed in China's tel market.

This restructuring plied with the following two principles: First, China's tel backbone networks were divided according to the number of optical fiber networks and the information channel capacity. China Network Communications Group Corporation, a group formed by merging China Ne , Ji Tong and the operations of China Tel in the 10 provinces in North China, owned 30% of China's tel networks and the new China Tel , consisting of China Tel 's operations in 21 provinces in South and West China, owned 70% of China's tel backbone networks. Second, local access networks were divided by regions, that is, local access networks in the 10 provinces in North China belong to China Ne , and those in the 21 provinces in South China belong to China Tel . Furthermore, the southern branch of the new China Ne will continue to operate, and the new China Tel is also allowed to launch operations in North China. This restructuring did not involve mobile operations, but Ji Tong disappeared in the process of restructuring.

In the stead of the old China Tel Group which once ranked 236th in the Fortune Global 500 after its withdrawal from the historical stage were the new China Tel and the new China Ne , officially founded on May 13, 2002.