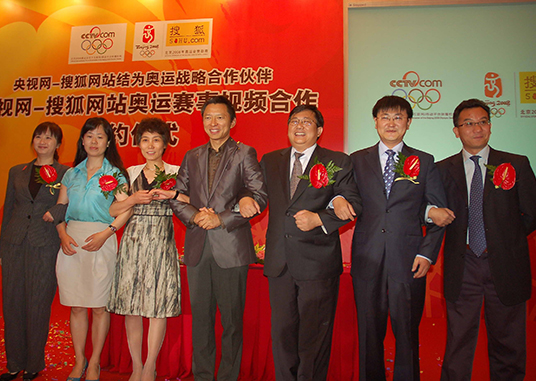 Annual Review
After the boom in the past two years, the Internet industry in China was in a period of "Hibernation" in 2008 due to the financial crisis in the wake of the Olympics, e-commerce giants groaned that the industry had entered "a bitter winter"; online streaming websites encountered the difficulty of fund-raising, and search engines operators were caught up with the crisis of confidence. Although the entire industry was seriously hit, some websites maintained a good momentum of growth. For example, web portals fared relatively well; online games websites saw stable growth and shopping sites seemed thriving.
In 2008, the Chinese Internet industry began to be the global focus when the number of its net users rose to 253 million in June and nearly 300 million by the end of that year, 270 million of whom had access to broadband internet. In addition, .CN, the country code top-level domain (ccTLD) for the People's Republic of China, became the most popular one by July 2008. All these contributed to a rapidly rising status of China on the global Internet scene.
Online media increased their influence in 2008. They were devoted to presenting a full picture of domestic stories, especially emergencies, as a rebuttal of distorted reports of some western media. They endeavored to give the public truth. Following the devastating earthquake that hit Wenchuan on May 12, the Internet played an important role in delivering news reports, locating lost relatives, and appealing for donations. In his talks with the public on the Qiangguo Forum sponsored by the People's Daily website on June 20, the Chinese President Hu Jintao recognized the significance of online media. The wide application of videos also helped spread the Olympic news far and wide. Thanks to its performance before, in and after big events in China, the Internet won widespread recognition, and online media gradually became integrated into the mainstream of Chinese media .
Their growing importance led to more interest from the government and society as a whole. For example, Chinese president Hu Jintao talked with the public on an online forum, as we noted just before; Chinese Premier Wen Jiabao ordered an investigation into an iron mine dam collapse in Loufan County, Shanxi Province based on messages circulated on some whistleblowers' blogs. By giving a stronger voice to the citizens and acting as a watchdog of social trends, online media gained serious attention from the central leadership.
With the growing impact came problems, some of which needed urgent resolutions. The "S Photo Scandal" in the early 2008 caused quite a stir and set off intense discussions about privacy protection and online pornography. Then at the end of that year, China Central Television (CCTV), the largest media outlet in China, revealed misconduct of two Chinese search engine operators in their business operation, leading to an erosion of trust in these companies. To ensure a sound development of the Internet industry, the authorities at the national and local levels imposed stricter regulations and many enterprises called for self discipline. For example, eight ministries collaboratively issued "Regulations on enhancing supervision of Internet mapping and geographic informationservices websites; a hotline 12321 was opened to handle online misinformation; and Beijing Administration for Industry and Commerce issued "Regulations on enhancing supervision of E-commerce market order". The entire country engaged in concrete efforts to build a positive environment for the development of the Internet.
Key Events
On December 18, 2007, the International Olympic Committee (IOC) announced that CCTV had been awarded the exclusive broadcast rights in China for the 2008 Beijing Olympics, and thus for the first time in history, new media, such as the Internet and mobile phones, were included in the Olympics broadcasting system as independent platforms. On 12 June 2008, the IOC-acclaimed new official website of the Olympics 2008 was unveiled. And in July, three Internet giants - NetEase, Sina and Tencent – formed an alliance to take advantage of their portals, blogs, podcasts, bulletin board systems, instant messaging tools and email systems with a view to offering a full picture of the Olympic Games.

In 2008, the Olympic Games entered an era in which blogs dominated. Many athletes and officials opened their blogs, and some renowned athletes and coaches saw an ever increasing popularity online. Many sportsmen and cultural personalities made their comments on certain big stories and the Olympics on their blogs, with millions of users following and interacting with them.

Live video streaming was a highlight of the 2008 Olympic Games. As the demand for live video streaming surged, new media began to provide more videos in their reports, in addition to texts and photos. For example, the Olympics broadcaster NBC in the United States played 2200-hour video broadcasting, or two thirds of its total live broadcast, compared to the 5500-hour videos provided by CCTV in China. This was 50 times that of the Athens Olympic Games. Nine Internet companies awarded with broadcast and rebroadcast rights, like CCTV , Sohu , Sina and UUSee , all offered a wide range of texts, photos, and videos. After the Beijing Olympic Games, online videos were recognized as a dominant form of the new media and gained even more attention.

Mobile media made their debut during the Olympic Games this year and turned out to be a new platform to disseminate Olympic news. A combination of newspapers, magazines, radios, televisions, and network media, mobile media can send news at any time and in any place. It offered a fresh experience to mobile phone users who learned about the Olympic Games with their phones in hands. At the same time, the Olympics encouraged the development of mobile media technology, as seen in the meaningful application of mobile TV.

During the Beijing Olympic Games, something changed in the way news were reported on new media, in which authenticity, comprehensiveness, authority and depth of news were equally stressed. For example, in delivering fast reports, new media was no longer single-mindedly focused on sending news as quick as possible. Instead they tried to offer authentic, authorative, comprehensive and in-depth content, improve user experience and encourage user participation in a variety of ways. The trends reflected the vision of new media for what news was about.


Jack Ma, founder and CEO of Alibaba Group, said in his conference with employees that Alibaba had to be prepared for the upcoming cold winter in February 2008. And in July, he reaffirmed in an open letter to the employees: "The winter ahead will be longer than we expected! More bitter! More complicated! Let us prepare for the winter!"

The Winter theory was not created in a vacuum, and it was echoed by many top executives, including Tencent CEO Ma Huateng, Lenovo chairman Yang Yuanqing, and Huawei CEO Ren Zhengfei. All of them believed that Chinese dot-com companies in 2008 would be suffering from "a cold winter" due to the global economic slump, monetary deflation in China, price increases of raw materials and energy in traditional industries, as well as decreasing export volume.

Although the Olympics 2008 offered opportunities to the Internet industry in China, the financial crisis dealt a serious blow to China. From July 2006, the subprime crisis began to spread from the financial sector in the United States to the international community. Thus global stock markets plunged. In November 2006, Chinese IT companies listed overseas saw a saddening decrease in their stocks. For example, Alibaba shares decreased to HKD 9.61, much lower than its IPO price, and the total value shrank over 3/4. Stock prices of Sina, Sohu, Ctrip and Baidu fell by 32%, 24%, 19%, and 19% respectively from November 2006 to August 2008. At the same time venture capital funds began to reduce investment in dot-com companies. All these pointed to a fact that the winter had arrived. Although companies specializing in online games, portals and online video streaming saw steady growth courtesy of the Olympics, the entire industry went through a bitter winter due to financial and operational problems.


As a series of intimate and private photographs of Hong Kong actresses were published in January and then widely circulated online, the so-called sex photo scandal.

The scandal was a widely discussed topic of online entertainment communities in 2008. The net users kept a close eye on the development of the scandal, lashing out the licentious world of entertainment business and the corrupted moral baseline. Traditional values, such as responsibility, loyalty and conservative attitude toward sex, were shattered. At the same time, both the entertainment business and sales of its entertainment products were taken a bite in Hong Kong. The strong and broad entertainment market had produced huge economic benefits to Hong Kong, yet the scandal dealt such a blow that the entire industry had to struggle to solve a series of problems one after another, and eventually began to go downward.

The scandal also led to social discussions about the need to protect the cyberspace and online privacy. It brought to light certain problems in Internet regulation, which, if not taken seriously, would compromise the Internet as a positive actor. Then malpractice would proliferate; wicked ideas, lies, porn would spread further wide, and privacy would become especially vulnerable on the Internet.


An eight-magnitude earthquake hit Wenchuan, Sichuan on 12 May 2008, causing 70,000 deaths and 260,000 wounds. Millions of Chinese people were affected by the disaster.

The Internet played a dominant role after the earthquake. From relief efforts, relocation of displaced citizens to public health and reconstruction, it made fast, full and authoritative reports possible. Also, the Internet was recognized for its openness, transparency and relevance, and played an important role in locating missing family members, organizing donation-collecting activities and re-building after the disaster. For example, net users set up dedicated columns in major BBS and websites to share information of the missing family members; some online media operators created online fundraising solutions to encourage the donations of enterprises and individuals, and more importantly, they made the whole operation public in a timely and transparent manner.

Online media acted more actively to foster public opinion and supervise relief efforts in the wake of the earthquake. They told stories of rescuers at work and positive response at home and abroad; major websites went grey as a show of sympathy; online game servers were shut down, and commemorative activities were organized in BBS and QQ groups, and through short messages. Generally speaking, the country was united to offer help to those in need.

After the earthquake that affected the whole country, new media became part of the mainstream media, and won wider recognition for its openness, comprehensiveness and authoritativeness.


The third telecommunications reform started on May 24 when the Ministry of Industry and Information Technology (MIIT), the National Development and Reform Commission (NDRC), and the Ministry of Finance (MOF) jointly released a notice on deepening reform in the telecom system. According to the notice, China Telecom would buy out China Unicom's CDMA network, including assets and users; China Netcom would be merged with China Unicom; China Satcom's basic telecom services would be incorporated into China Telecom; China Tietong Telecom would be merged with China Mobile; and the number of domestic telecommunication operators would be reduced to three from six. In another development, the State Council approved a resolution to launch 3G licenses. Then MIIT in January 7, 2009 issued 3G license to China Mobile, China Telecom, and China Unicom.

The restructuring of mobile operators resulted in more intense competition. The reborn operators began to offer more information products in addition to voice services. They also provide specific products and packages to meet various demand, based on their understanding of the market. For example, China Mobile's Fetion saw growing popularity; China Unicom launched Ring 2008, a ringtone-downloading service; and China Telecom began to offer mobile services.

China launched 3G licenses at the end of 2008. According to the restructuring proposal, China Mobile acquired TD-SCDMA license, China Telecom CDMA2000 license, and China Unicom WCDMA license. The launching of 3G licenses marked the arrival of the the third-generation telecommunications. The operators began to compete in terms of price, brand, network, service and business portfolio, instead of price alone.

3G telecommunications also used in a new era of mobile internet. Before nothing more than value-added services, led by voice telephony, were available on mobile internet, and the users could only download ringtones and pictures. Now the information transfer rate of mobile Internet was greatly improved; data and information business was on the rise, and a variety of applications delivered better user experience, leading to an ever increasing number of mobile Internet users.


It was the first time for the Chinese top leader to talk with Internet users online. When answering questions of the net users, the then Chinese President Hu Jintao said that the Internet was an important channel to hear the people out and pool their talent. It is fair to say that the internet, as a center of information exchange, was gaining more attention from the central leadership.

Hu's exchanges with net users shows top-level interest in the internet. More importantly, it has changed the public perception of government officials as mechanical and inaccessible personalities, cultivated a populist image of the government, and brought the people closer to the leaders. Mao Shoulong, a public management expert, commented that the Internet was playing a bigger role in public decision-making on the national level. Hu's exchanges with net users showed that he often browsed the Internet, a channel to check the pulse of society and help create fair public policy; he was in fact traveling incognito in a modern world. In addition, the exchanges show that net users have been recognized as participants in the administration and discussion of state affairs.

On July 4, 2008, Beijing Administration for Industry and Commerce (BAIC) published e-commerce regulations on its official website, requiring that from August 1, entities or individuals should register and acquire official licenses before running their business online. For those registered enterprises or individuals, they would have to report expanded business scope to the authorities.





The new regulations caused quite a stir in society. Lv Bowang, an Internet economy expert, said: "BAIC's move will turn the clock of e-commerce backward by 20 years, no, 10 years." The expert at new economy Jiang Qiping said: "Consumer-to-consumer (C2C) is still at an early stage in China. We need to encourage and support its growth. It is too early to impose strict control." Even Wang Juntao, CEO of 8848 and father of e-commerce in China, said: "such regulations will kill the motivation of many individual online sellers, because with existing laws and regulations, it is difficult form them to get retailing licenses." Obviously the opposers overwhelmed the supporters. Less than half a month since the regulations took effect, CCTV reported that from September 1, 2008, China would stop collecting administrative fees from private businesses and small retailers. In other words, Chinese sellers, online or offline, no longer had to pay administrative fees. What is apparent to all is that any regulations will fail if decision-makers don't take into account the requirement of market development.




On October 20th, 2008, the Microsoft Corporation announced that it would launch the Windows Genuine Advantage and Office Genuine Advantage, as part of a Microsoft effort to reduce piracy. According to the programs, once Microsoft initiates validation test, a user's computer screen will turn black every 60 minutes if it fails validation.The whole story came to be known as the Black Screen incident. Microsoft China explained that the black screen was not real black, neither would it disturb the functions of the computer or lead to shutdown. The move was to help users determine if they are using fake versions of Windows and Microsoft Office and more importantly, to fight privacy, it added.





Although the intention of Microsoft was to fight privacy, it ignored the unbearable disturbance of the black screen that would appear every hour and the consequent psychological damages to the users. As a result, the programs soon faded into oblivion amid users' questioning of its potential violation of property rights. Addiction to pirated versions continues to this day. But it does not mean that producers and users of pirated software won the battle. Anti-piracy efforts are laudable, and users should use authentic copies. What needs to be thought carefully is when Chinese producers of operating systems and office software can make real breakthrough on their own and grab a bigger market share, so that they can no longer be tied to the apron strings of foreign producers.

Chinese Internet users scale reached world's No.1 by June 30 as a result of the ever growing popularity of the Internet. The users work, chat, play and shop online, and their growing number has facilitated the development of the Internet and the economy as a whole. Their size is now an important index of how a country is informationalized.

And by July 22th, 12.188 million websites were registered under .CN, making it the largest country code top-level domain. .CN is the country code top-level domain (ccTLD) for the People's Republic of China, and any websites registered under it are subject to Chinese laws. The widespread application of .CN not only helps protect information security on behalf of China, but also promotes the prosperity of the Internet.

The largest online population and the most popular .CN are a signal of the rising status of China on the Internet scene and its overall strength as well.


In its program News 30', CCTV brought to light the misconduct of Baidu in its paid listing and the attendant problems in a series of field interviews aired from November 15th to 16th. The misconduct included allowing illegal medicines to appear in its search results and helping spread all sorts of misleading medical information, which posed serious threats to the users. The exposure led to a crisis of confidence in search engine operators, and recharged a debate about paid listing.

Web search engines are the most important tools for net users to acquire unknown information. Users often directly visit big and well-known websites, but they rely on search engines to access less-known websites, especially some commercial websites. According to the paid listing system at Baidu, if the bid price an advertiser set for a particular phrase is high enough, his ad will more likely end up in the top of the paid listings areas for that phrase.In other words, organic listing of search results are intervened intentionally. Bid price counts, no matter what. Such a business model was the very opposite of what the search engine operators claimed: we never impose manual intervention.

To sum up, search engine operators in 2008 suffered declining reputation because of their misconduct. For example, some accepted hush money from Sanlu Group, a milk producer behind the milk scandal that shocked the entire nation; some blocked information of their competitors on result pages, helped spread junk information, and protected the PR value-added services of their clients by deleting negative news online. No wonder their credibility was questioned.