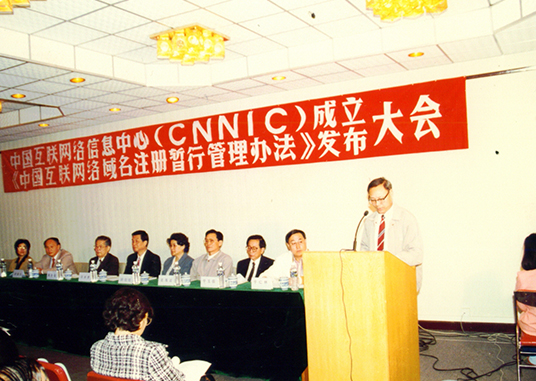 Annual Review
In 1997, Asian Financial Crisis broke out, sweeping across Asian countries. However, the severe macro environment didn't stop development of China's Internet industry. The first boom of China's Internet gradually gathered forces and both business enterprises and users steadily grew. By the end of 1997, number of Chinese netizens reached 620,000. In this year, NetEase was founded to run e-mail business; Aitexin, the predecessor of Sohu, launched ITC industry and business network; Stone Richsight and a group of other Chinese forums were opened. Interconnection of the four major networks realized direct communication for domestic network users. Interconnection of infrastructure and establishment of a group of Internet enterprises enabled netizens to read news at people.cn, chat at Stone Richsight forum and inquire business information at Aitexin. Surfing the Internet became a trend. Internet fans in cities called themselves netters, called e-mail "伊妹儿", Java technology "娇娃" and modem "猫". According to statistics, "surfing the Internet" was the second most popular term of the year right after "Hong Kong's return in 1997". A brand-new "network society" is coming towards us.
In March 1997, IBM made its first commercial network advertisement in China at ChinaByte . This was a milestone in China's Internet development because the most important business mode of Internet, network advertising, emerged.
Business applications based on Internet came into being consequently and business institutions and industrial organizations all set foot in Internet to transmit business information and explore new business methods. Network economy took initial shape. Foundation of China Internet Network Information Center represented that China's Internet network established connection with international Internet network management service.
In February, the State Council Informatization Office held Seminar on Digital Information Revolution, initiating China's Internet enlightenment, and Nicholas Negroponte paid official visit to China for the first time. This awakened the Internet awareness of government, businesses and the public. In another word, after China realized interconnection with international Internet network at the earlier stage, this realized China's connection with international Internet ideology for the first time.
In this year, revelry and passion of netizens reached the peak in China's game against Qatar at home court in the World Cup Qualification. China's first forum post "Dalian Jinzhou has no tear" was rapidly transmitted and reprinted by many traditional newspapers. It was not until then that the society realized Internet could not only bring us fresh entertainment experience by surfing the Internet, but also connect people and produce emotional resonance across the entire society.
Key Events
On January 1 1997, people.cn run by People's Daily was launched. This was China's first central major news publicity website. The content included the series newspapers and periodicals that were published such as People's Daily (overseas edition), East China Edition , Market News, Humor and Satire, Global Times, News Front, China's Long March to Quality Campaign, Earth Biweekly, Chinese Times and Securities Times. By the end of November 1997, number of visits to the online edition exceeded 40 million and there were 400,000 visits daily on average. As the influence kept expanding, domestic and foreign advertising clients reached out to the website and its advertising income in 1997 surpassed RMB300,000. People's Daily Online Edition was a bureau-level department under State Commission Office of Public Sectors Reform and its number of regular employees was specified at 40. This was unprecedented among China's online press agencies. As a major national news website, People.cn had several columns including CPC News, News on National People's Congress, News on Chinese Government, News on CPPCC, News on Chinese Labor Unions, News on Women's Federations and News on China Association for Science and Technology that formed a matrix and constituted an important online platform for publicizing major news, interpreting policies and regulations and communicating with the public. Over more than ten years of development, people.cn has always been positioned as a communication bridge between government and the public. It was the first among news portal websites to launch a current political forum, open an opinion channel and set up message boards by government officials from ministers to local leadership, becoming an important online interaction platform for promoting government-people exchange and transmitting public opinions.

On February 28, 1997, the State Council Informatization Office organized the Seminar on Digital Information Revolution. Several futurologists and Nicholas Negroponte, Director of MIT Media Lab, were invited to deliver speeches and more than 200 people from related departments, research institutes and universities attended the meeting.

Nicholas Negroponte was listed by Time as one of the most important contemporary futurologists and his book Being Digital started a digital wave in China. During his visit to China this time, he attended a seminar themed information revolution, delivered a speech on digital information revolution and elaborated his forecast and understanding on future information revolutions and informatization. Negroponte also conducted a dialogue with over ten Chinese futurologists, IT experts, government officials and academic institutes on digital TV, artificial intelligence, Internet robots and how should government promote informatization in the future. The seminar was the highest-profile meeting since Internet entered China and eight ministerial officials and hundreds of officials attended the meeting. Zhang Chaoyang, Negroponte's student then, translated for Negroponte at the seminar. The meeting generated a digital shock wave and triggered universal attention from all walks of life to digitization and informatization. The speech of Negroponte was known as the first lesson of China's Internet enlightenment. It exerted profound influence over policy and guideline making on China's Internet development, commercialization, rise of public awareness and shaping of domestic Internet ideology.

At the end of 1996, in order to meet the need of China's Internet network development, China started to refer to the internationally prevailing mode of managing the domain name system by Internet network information center. Hence, preparation for establishment of China Internet Network Information Center (CNNIC) started. On May 27, 1997, on the basis of former China Internet Network Information Center expert panel, former Office of the State Council Informatization Leading Group set up Steering Committee for China Internet Network Information Center. On June 3, 1997, as consigned by former Office of the State Council Informatization Leading Group , Chinese Academy of Sciences (CAS) officially set up China Internet Network Information Center (CNNIC) at Computer Network Information Center, CAS to exercise responsibilities of national Internet network information center. CNNIC is primarily a management organization of domain name registration and a operation organization of domain name root server in China. It is in charge of the operation and management of country code top-level domain ".CN" and the Chinese domain system. Meanwhile, it conducts statistical surveys and reports on the Internet development status in China and carries out business exchange and cooperation with related international organizations and network information centers in other countries and regions. On the day of its foundation, Interim Administration Method for Domain Name Registration in China and Rules for Implementation of Domain Name Registration in China were officially released, symbolizing basic establishment of China's domain name system and administration mechanism. In November 1997, CNNIC issued Statistical Report on Internet Development in China for the first time. Statistics showed that up to October 31, 1997, there were 299,000 computers connected to Internet, 620,000 Internet users, 4,066 domain names registered under .CN, 1,500 WWW websites and 18.64Mbps international export bandwidth. Later, CNNIC continued to conduct statistical surveys on China's Internet network development status, which became the most authoritative statistical reports depicting China's Internet network macro-development. Establishment of CNNIC indicated that China's Internet was brought in line with international Internet practice in the aspects of management and service and that operation and management of China's Internet developed onto an orderly and regulated path.

Since 1994, China built four Internet networks one after another, namely China Science and Technology Network (CSTNET), CHINANET, China Education and Research Network (CERNET) and China Golden Bridge Network (CHINAGBN). In October 1997, CHINANET realized interconnection with CSTNET, CERNET and CHINAGBN.

CSTNET was a non-profit network for public welfare and provided service mainly for technology users, technology administrators and technology-related government departments. CHINAET was a public Internet network managed by China Telecom and opened to the public. Since its launch in 1995, by September 1997, its users nationwide already reached 150,000 and the network realized admirable development in size. China Education and Research Network (CERNET) was a national education and research computer network approved by State Planning Commission and supported and administered by State Education Commission. With its construction starting in 1994, the network was one of the important teaching and research facilities for Chinese higher education institutions. In September 1997, CERNET was already connected with over 270 access networks, which were distributed in nearly 70 cities in mainland China, and there were almost 50,000 computers in the network. Number of daily CERNET users exceeded 150,000. Building of CERNET played an important role for utilizing computer technology and network communication technology to promote building of campus networks in Chinese higher education institutions, exchange of information resources and interconnection with currently available international academic computer networks. China Golden Bridge Network (CHINAGBN) was administered by former Ministry of Electronics Industry and provided data communication and information service for government, enterprises, public institutions and the public.

The four Internet networks rendered services for technology, business and education & scientific research respectively. Their interconnection realized direct communication for Chinese network users, promoted information interconnection among technological, educational and business applications and accelerated the undertaking of developing Internet network into China's infrastructure for national economic informatization.

The game of Asian Top Ten for the 1998 World Cup Qualification opened the curtain in Dalian Jinzhou Stadium. On October 31, 1997, China met Qatar head-on on home court, but was defeated 2: 3, failing to enter the 1998 World Cup Final. A post titled Dalian Jinzhou Has No Tear on the Internet deeply affected many football fans. In the early morning of November 2, a netizen named "Lao Rong" posted an article describing feelings of his son and his own after watching the game to the Sports Salon of Stone Richsight. Back then, the Salon had only less than 10,000 visits daily and due to technical reasons, only 300 posts could be saved, not to mention the very few messages left by netizens. To everyone's surprise, only 48 hours after the article was posted, the visits exceeded 20,000, hitting the record high at that time. The sincere emotion and plain words in the article aroused strong resonance among Chinese netizens. Being forwarded and shared by other netizens, the article swept across almost all the Chinese websites, which could count as the most symbolic cultural event of the year in China's Internet. Two weeks later, the article was published by Southern Weekly in full text. It was described in Editor's Note as follows: Within one week, Southern Weekly received in its e-mail box more than 60 letters from readers, who required reprinting the article. Chief Editor Chen Tong of sina .cn recalled that the event made people feel the force and influence of forums for the first time. Lao Rong exclaimed himself that before 1997, nobody would expect that one could get famous because of one post. In 1999, Lao Rong, originally named Wang Juntao, founded the e-commerce website 8848 and was called the "first person of e-commerce". However, his identity as a famous netizen in China was always embedded in the heart of netizens.

In 1997, a group of predecessors of Internet portals such as Sohu, NetEase and Stone Richsight (predecessor of Sina) started to emerge and provide the public with Internet application service. China entered the first year of Internet commercialization. In June 1997, Ding Lei, aged only 26, founded NetEase, which launched free homepages, free domain names, virtual communities and many other Internet services one after another, guiding the public to experience diversified Internet services. NetEase, which Ding Lei registered with RMB500,000, became the most famous website in southern China and even the entire country at that time.

In January 1997, Aitexin that Zhang Chaoyang founded launched a website named China Industry and Business Network that faced netizens and provided them with information services. Through public bidding, it secured the task of overall content design and development for CNINFO "169" Beijing Information Harbor for the next year, becoming an important part of information on China's backbone network (163). In 1997, Stone Richsight introduced USD 6.5 million international venture capital, laying a solid foundation for birth of sina .cn two years later. Besides, a group of websites such as ChinaByte and mop emerged one after another and ChinaByte secured IBM's first network advertisement. China's Internet officially provided netizens with Internet application services in the form of commercialized operation.

In 1997, Book Series on Network Culture, with Guo Liangdan as chief editor, was published by China Renmin University Press. Authors of the book collection were the first group of Chinese scholars that had contact with network, including Guo Liang, Jiang Qiping, Wu Bofan, Hu Yong and Wang Junxiu. None of them was from the background of computer science, but the book collection discussed technology from perspectives that Internet specialists never had before and humanity perspectives that philosophers never had before, enlightening regular people as to how to understand Internet.

The collection consisted of seven books. The History of Network – From ARPRNet To Internet reviewed the development history of Internet and discussed Internet-related issues that people were concerned about.

The author Guo Liang believed that one of the best methods of forecasting Internet development trend was to study its history. Only by understanding its origin could we understand Internet's today more profoundly and predict its future. The World Map in the Information Age reflected on changes with politics, military force and international relationship in the future age of information. Capitalist Storm took collision of thought between industrial civilization and information civilization as a clue and summarized ideological confrontations in the development process from industrial modernization to information modernization from political, economic and cultural perspectives. Lonely Revelry --- Social Contact in the Digital Age elaborated the revolutionary influence of network on mass media in the face of flooding of personal computers.

Network Survival Skills in the 21st Century visualized the confrontation between network economy modes and the realistic world. Legend of Network and Civilization discussed civilization concepts and ethics.

Hackers: Cowboys in the Computer Age analyzed the nature of hackers, the unique product of the Internet age. Living in Network depicted how people could change their way of spiritual life and what challenges female culture would face. One's Experience on the Internet described the experience of surfing the Internet of a regular netizen.

Book Series on Network Culture discussed culture in the way of network and pondered over network from the perspective of culture. It was a major work by Chinese digital thinkers on interpreting Internet against the background of contemporary Chinese culture and society. The collection brought Chinese people independent digital enlightenment and laid the foundation for study on Chinese network culture.